Are you looking for free crochet patterns that you can use for any occasion? You are absolutely in the right place! In this post, you'll find all my free crochet patterns. Welcome and enjoy the list. The list is a regularly updated directory that features all free crochet patterns which were posted on Beautiful Crochet Stuff since 2013.
I started writing patterns four years ago and it's time to put them together. Scroll down below to see the list of the best free crochet patterns ever :) Pick a desired category, choose a pattern, click on a link and start crocheting! ALL MY PATTERNS ARE WRITTEN USING STANDARD AMERICAN CROCHET TERMS.
FREE CROCHET PATTERNS
FREE CROCHET TOP PATTERNS
Looking for some stylish and exclusive outfit for summer? Crochet one of these free crochet top patterns to make a really chic outfit. You can choose from quick and easy casual top or more complex crochet blouse. No matter your age, skill level or shape, I'm sure you'll find something interesting for you!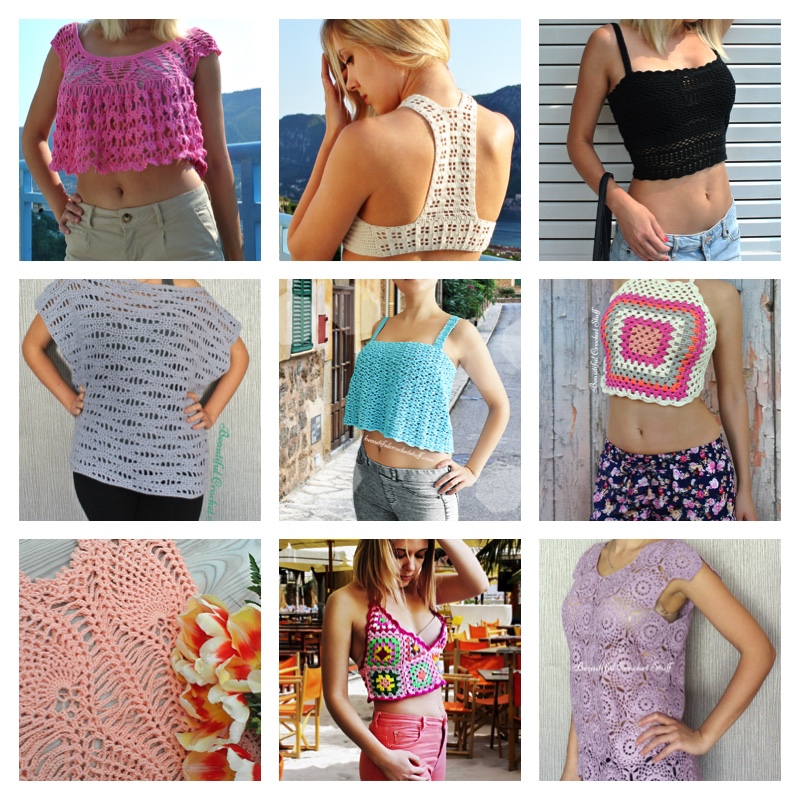 FREE CROCHET SWEATERS, PONCHOS, VESTS AND CARDIGANS PATTERNS
In the most warmest section you'll find a free crochet sweater, vest, cardigan and poncho patterns. If you're not experienced crocheter, I'd recommend you to start with poncho. Also you will find a summer poncho pattern which you can use as a skirt, cowl or shawl.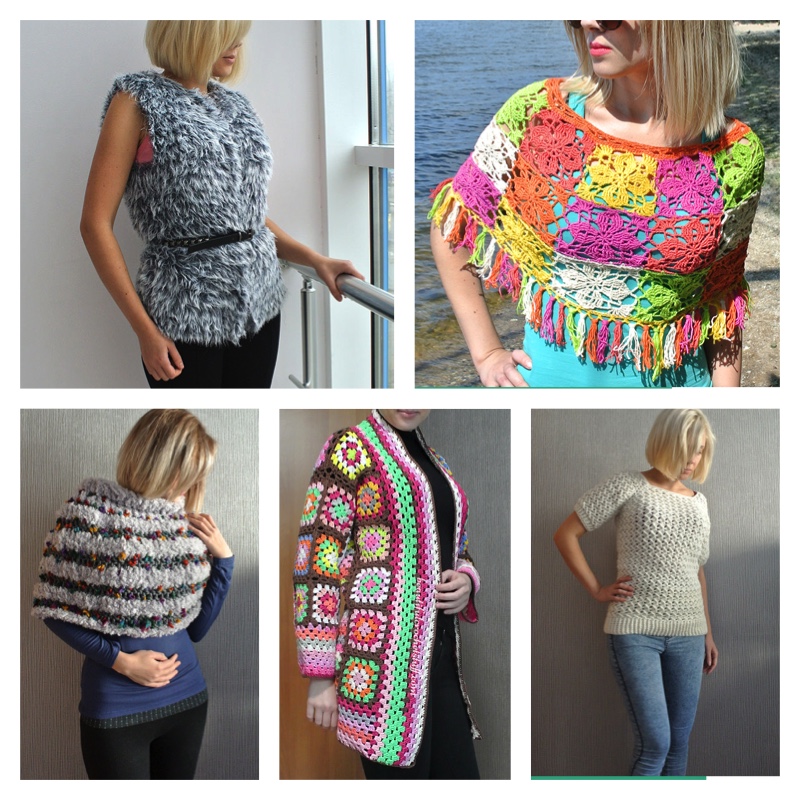 FREE CROCHET DRESSES, TUNICS AND COVER UP PATTERNS
Is there anything better than the perfect crochet dress or tunic? The search never stops for longer, smaller or bigger, beach, boho, lacy or romantic style. Choose your style and start crocheting!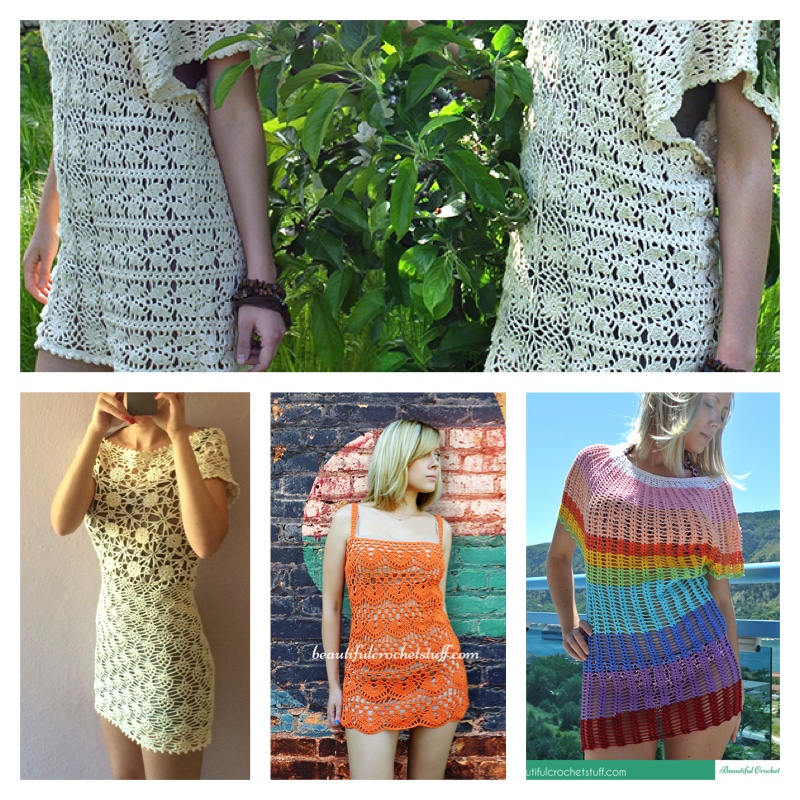 FREE CROCHET COWLS, SCARFS AND SHAWLS PATTERNS
Crochet shawls, scarfs and cowls are the perfect accessories for any season. They can be added on top of fall-winter wear for warmth and stylish look or used as a beach cover up. Also, they are always one of the easiest and fun crochet projects to work no matter your skill level.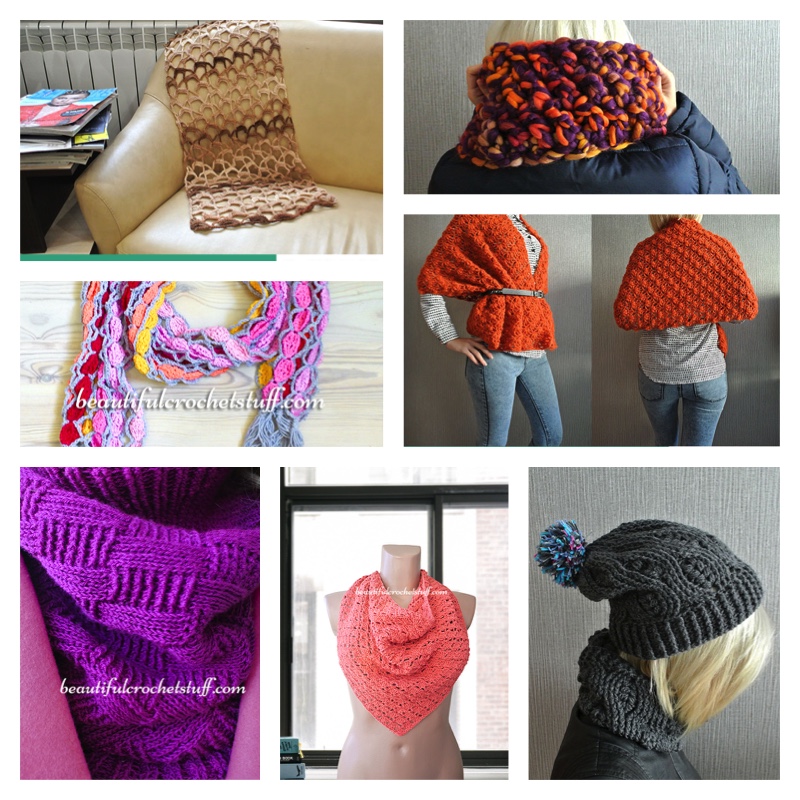 FREE CROCHET HATS AND BEANIES PATTERNS
Crochet hats and beanies is the most popular section. You'll learn how to crochet the easiest beanie, infinity scarf and beanie set or a set with beanie and mittens, baby hat and Minnie Mouse crochet hat, also you will find a summer beanie free pattern. You don't need a lot of yarn for these projects, just a skein of yarn is enough for most of these projects.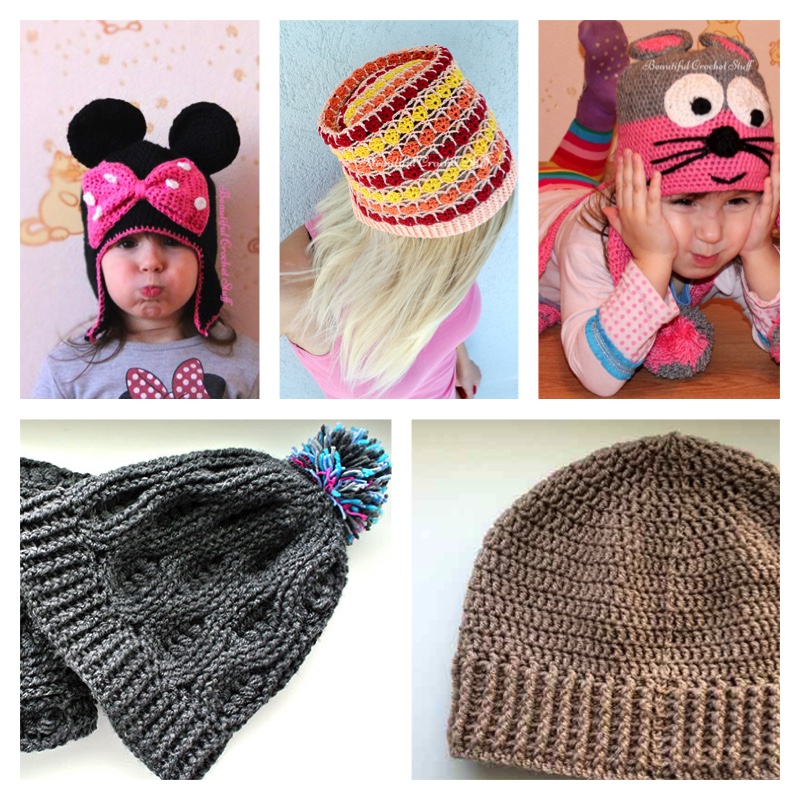 FREE CROCHET BOOT CUFFS, MITTENS AND GLOVES PATTERNS
These free crochet patterns are perfect for beginners. Start crocheting from the easiest and smallest projects and I'm sure you'll fall in love with crocheting, even more with some more practice :) These projects are real lifesavers when you need an original gift to make a birthday memorable for a long time!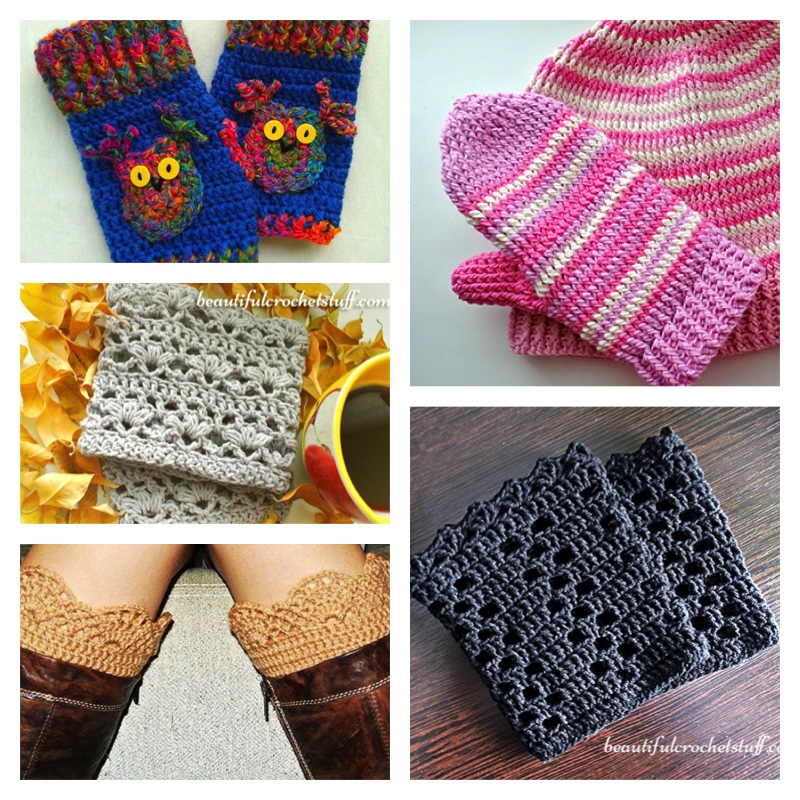 FREE CROCHET SWIMSUITS AND BIKINIS PATTERNS
You can find more bikinis and swimsuits patterns in my EtsyShop but this crochet swimsuit free pattern won't leave you indifferent. I will add more patterns in this section soon, so stay tuned :)
CROCHET SKIRTS, TROUSERS AND SHORTS PATTERNS
I know you all love free crochet skirts and shorts patterns. So, here you have them. You will find a gorgeous crochet maxi skirt, bright layered skirt, beautiful mini skirt, granny square skirt and pineapple crochet shorts. From boho to chic, these are great for any occasion!
CROCHET BLANKETS AND MOTIFS PATTERNS
Here you will find all my favorite crochet blankets and crochet squares free patterns for creating your own blanket design. They all are long term projects so you should be patient and don't give up :) Though they are beginner-friendly.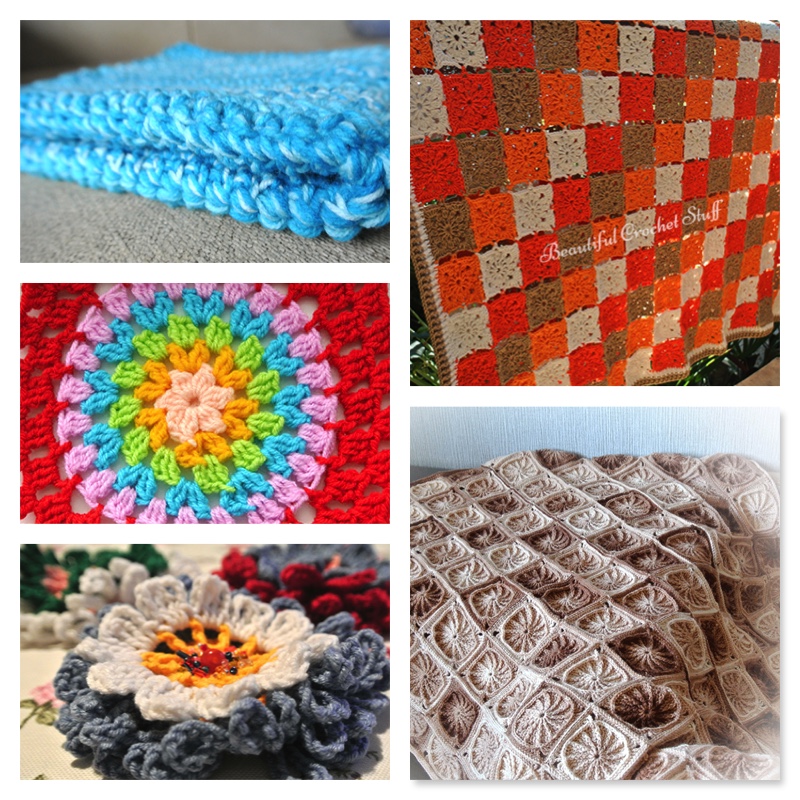 FREE CROCHET STITCHES AND BORDERS PATTERNS
With the help of these stitches you can easily create anything you need – blankets, shawls, clothes etc. You'll learn how to make shell stitches, how to crochet the front post double crochet and back post double crochet, how to crochet ribbings, V-stitch and how to make crochet waves. Also you'll learn the difference between the puff, bobble and popcorn stitches and how to crochet various borders.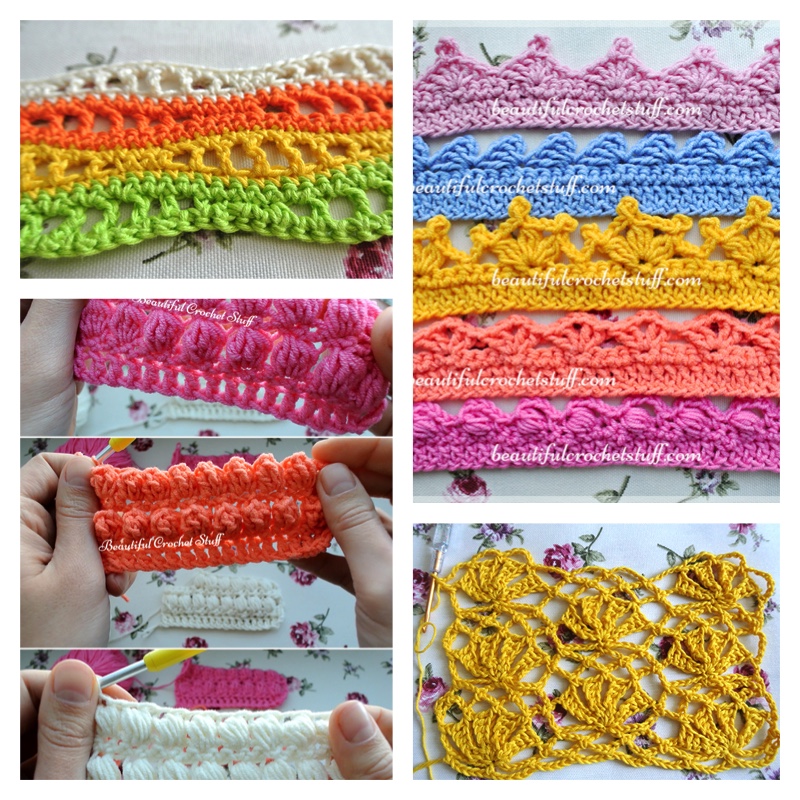 OTHER FREE CROCHET PATTERNS
This section features crochet Christmas trees free patterns, 5 free crochet snowflake patterns, crochet star, yo-yo puff pattern, crochet pine cone, crochet butterfly, crochet spider web and crochet Easter bunny pattern. All these listed patterns will help you to add coziness and bring some Christmas, Halloween or Ester mood to your home.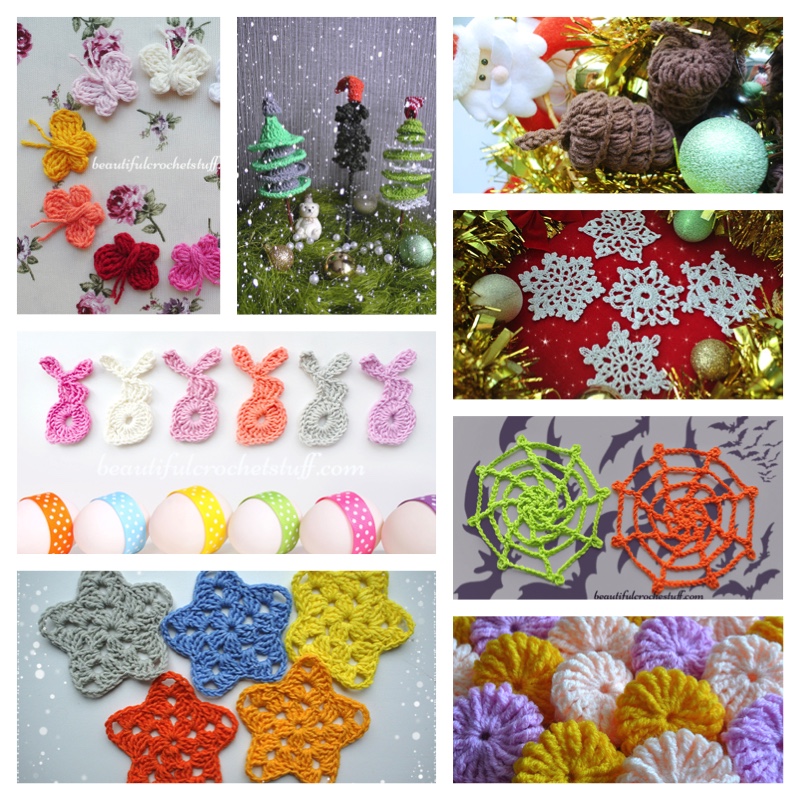 CROCHET TIPS
In this section you can find interesting and useful links on how to crochet. If you are beginner crocheter, you will surely like this sections. You'll learn the difference between British and American crochet terms, how to read crochet abbreviations, how to make a foundation double crochet, how to make a slip knot and how to crochet a magic ring. Also, you will find 3 ways to make a double crochet stitch and the most popular joining techniques.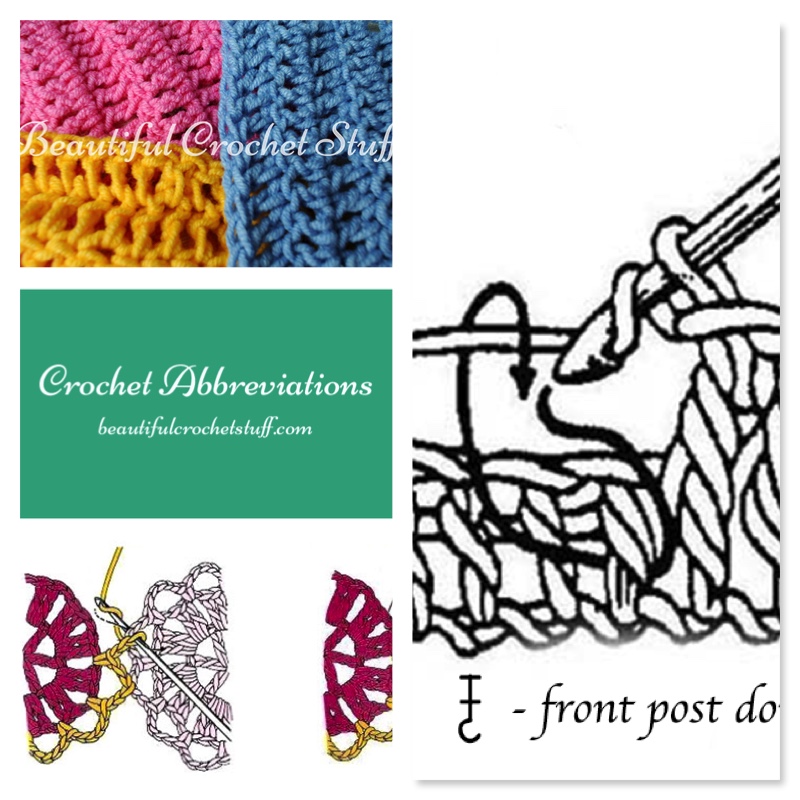 CROCHET BAG, COVER UP AND PURSE FREE PATTERNS
Thank you for reading my post. Don't forget to share it with your friends on Facebook and make sure to visit my ETSYshop for more crochet patterns.