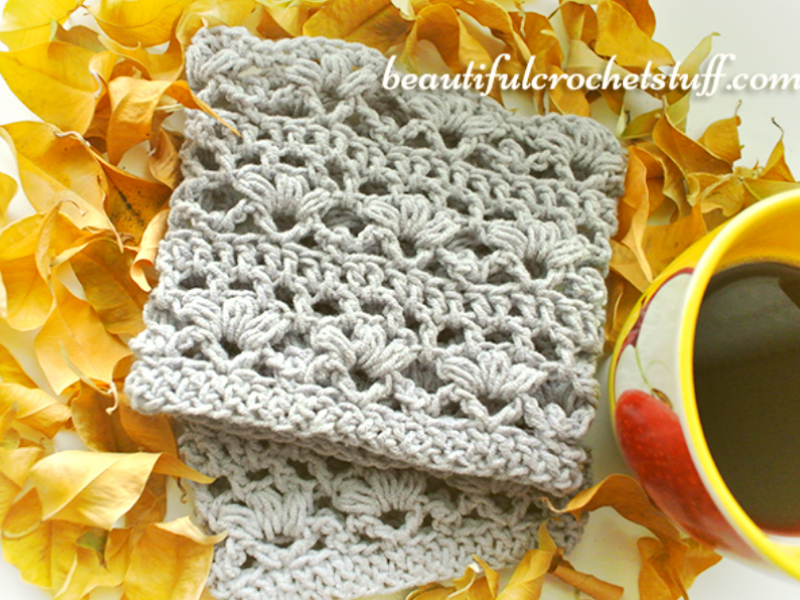 You can crochet these cute lace boot cuffs less than an evening. They really keep your legs warm and you can easily to make another pair using different patterns, colors or yarn. Also you can make boot cuffs using fancy yarn, it's a great way to create interesting fabric structure.
Stitches Used: ch-chain, sl st-slip stitch, sc-single crochet, dc-double crochet,V-st-2 dc with ch-2 between, puff st-see how to crochet it here
Crochet Hook: 3,5 mm
Yarn: Alize Cotton Gold
Number of stitches: multiple of 6
Round 1: foundation double crochet (42 dc), join with sl st to 1st st.
Round 2: ch-5, dc in same space, * ch-5, sl st in the 3rd ch from the hook (picot), skip 2 dc, sc in next dc, ch-2, skip 2 dc, V-st in next dc **, join with sl st in the first V-st
Round 3: ch-2, * 3 puff st  with ch-2 between in next V-st, ch-1 **, join with sl st to the 1st puff st
Round 4: sl st in next ch-2 space, ch-4, dc in next ch-2 space, * dc in next ch-1 space, ch-1, (dc in next ch-2 space, ch-1) repeat once **, repeat from * to ** around, join with sl st in top of ch-3
Round 5: ch-2, dc in next dc and ch-1 around, join with sl st to the 1st dc
Repeat from Round 2-5 as many times as you need