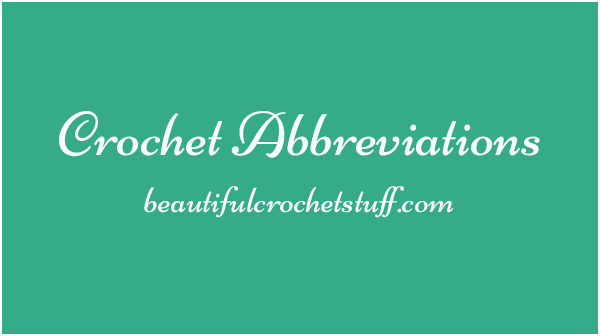 Crochet abbreviations are also known as an alphabet of crochet stitches and a soul of crochet patterns. Yes, I call them that :) So, crochet abbreviations are the shortened names for crochet stitches and actions. You can find them at the beginning of each pattern. Read them thoroughly because not all designers use the standard crochet terms in their patterns. I also do so and I know it is possible. If you use my patterns then you may noticed that :)
I use crochet abbreviations to save space and time. That is why it looks like foreign language but don't be afraid it's an international language for all crocheters. There are two kinds of language: American and British Crochet Terms. 
You can also find brackets, parentheses, asterisk and double asterisks in my patterns. Crochet abbreviations in the parentheses and brackets mean that you need to work instructions as many times as directed. An asterisk shows you from where you must start repeating a set of instructions. Double asterisks show you where you must end the set of instructions.
Below you'll find examples of crochet abbreviations:
Stitches:
sc – single crochet
sl st – slip stitch
ch – chain stitch
dc – doble crochet
hdc – half double crochet
tc – triple crochet
dtr – double triple crochet
bpdc – back post double crochet
fpdc – front post double crochet
dc2tog – double crochet 2 together
cluster stitch
v-stitch
picot
Actions:
cont – continue
dec – decrease
inc – increase
rep – repeat
sk – skip
yo -yarn over
Symbols:
[ ]  – Repeat instructions between brackets
( ) –  Repeat instructions between parenthesis
*, ** –  Repeat instructions between asterisks